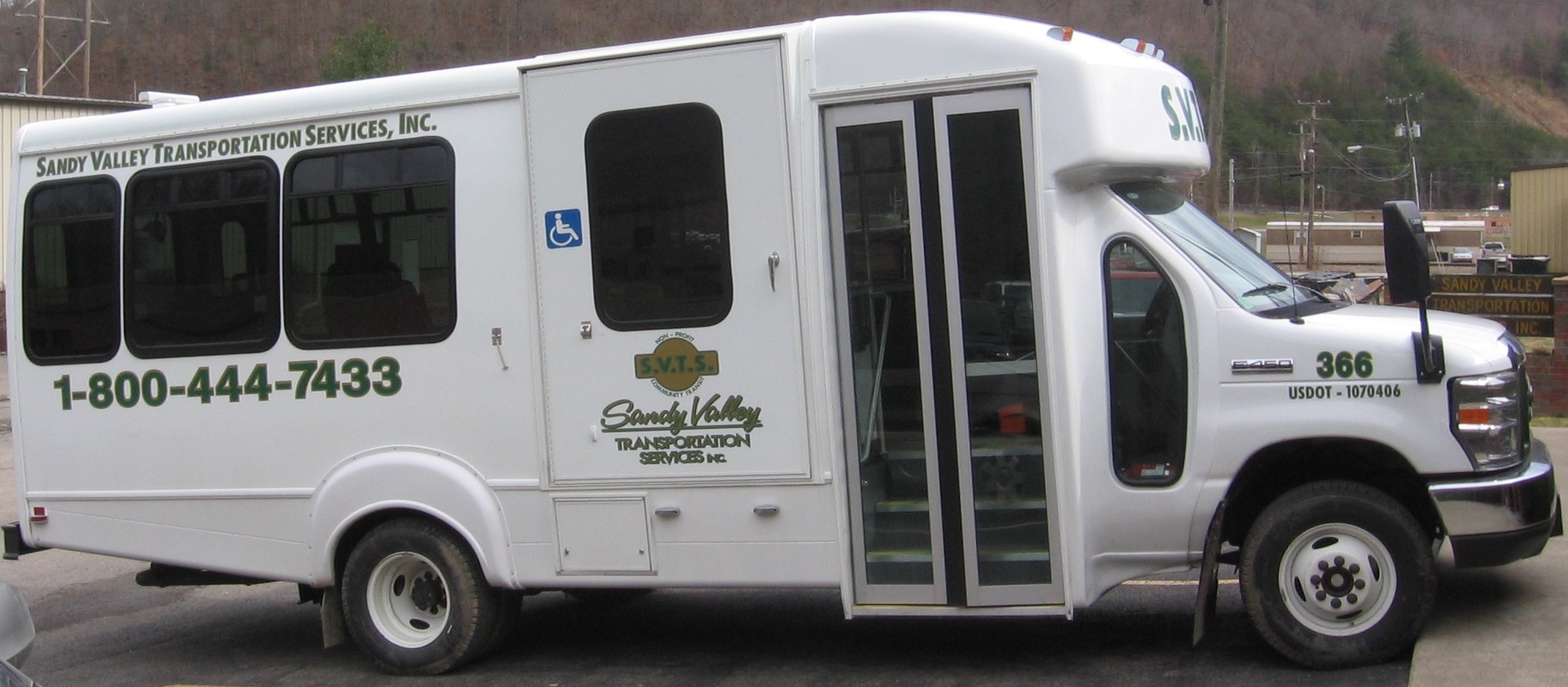 Public Transit Services funded in part through the Kentucky Transportation Cabinet Office of Transportation Delivery and the Federal Transit Administration (FTA).

Sandy Valley Transportation Services, Inc. (SVTS) is a nonprofit demand response public transit system that has provided safe, dependable and affordable public transportation for the residents of Floyd, Johnson, Magoffin, Martin and Pike counties in eastern Kentucky since 1990. The public transit services are possible by operating assistance funds. SVTS is applies annually for operating funds for the continuation of the existing public transit services and for the expansion of transit services into other areas of the five – (5) county region.

Dispersed populations and vast distances between communities characterize rural areas in Kentucky. Sparse population combined with the great distances and the lack of transit amenities intensifies the need for transportation services. The quality of available and affordable transportation in the Big Sandy Valley area has a direct bearing on the quality of life for residents.

SVTS is proud to serve all the people of the big sandy area with emphasis being placed on serving the elderly and individuals with special needs. Many of these individuals rely on SVTS for their transportation. They depend on SVTS to go the doctor and other places like department stores, banks, grocery stores, drug stores, beauty and barber shops, social service agencies, jobs and many more places.

Serving the elderly and individuals with special needs is emphasized by SVTS. Many individuals rely on this transportation for accessibility to health care services, stores, health and human service agencies and many other destinations. SVTS serves as the Section 5311 provider of public and inter-city transportation and as the Section 5310-lead agency for the area.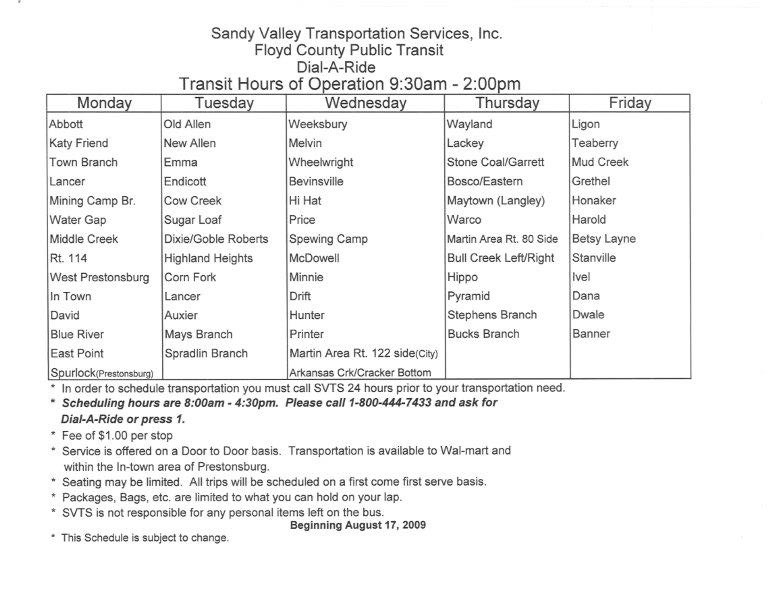 To view SVTS Vans that are avaliable at Auction, Please click the GovDeals picture above

Transportation is Provided for Kentucky Medicaid as well as Public transport: Cash Fare and Intercity Transportation.

For more information on the Dial-A-Ride
Click the County below:
Pike County

SVTS is a proud member of:
Kentucky Public Transit Association (KPTA)

Kentuckians for Better Transportation (KBT)
Dial 7-1-1* or use these toll free numbers

TTY:
1-800-648-6056
Voice:
1-800-648-6057
Speech to Speech:
1-888-244-6111
Spanish to Spanish:
1-866-490-4403

Sandy Valley Transportation Services, Inc.
81 Resource Court, Prestonsburg, Kentucky 41653-7850
(606) 886-1936 * 1-800-444-7433
/RIDE
Fax (606) 886-7039

Reasonable Modifications/Accommodations Policy

The Federal Department of Transportation (DOT) has recently revised the rules for the American with Disabilities Act (ADA) and Section 504 of the Rehabilitation Act of 1973. The revised rules provide for public transit organizations to make reasonable modifications and accommodations to policies, practices, and procedures to avoid discrimination, and to ensure accessibility to individuals with disabilities.

Sandy Valley Transportation Services, Inc. (SVTS), is committed to providing safe, reliable, courteous, accessible and user-friendly services to its customers. To ensure equality and fairness, SVTS is committed to making reasonable modifications to its policies, practices and procedures to avoid discrimination and ensure programs and services are accessible to individuals with disabilities. All requests should be made in advance by contacting Stacy Prater or Liza Morrow using the contact information listed below. To request a modification, please submit the following information: Name, Contact Information, service for which the requests pertains and specific details of modification requested.

SVTS Transit will accommodate requests provided that:

<![if !supportLists]> 1. <![endif]>Fundamental nature of the Program, service or activity is not altered, or

<![if !supportLists]> 2. <![endif]>It does not cause a direct threat to the safety or health of others, or

<![if !supportLists]> 3. <![endif]>It does no result in an undue financial and administrative burden, or

<![if !supportLists]> 4. <![endif]>The requestor would not be able to fully use the service provided by SVTS Transit without the modifications.

There are several ways to obtain and submit a Reasonable Modification/Accommodation request:<![if !supportLists]><![endif]>
Send an email to Stacy Prater at smckinney@svtransport.org

Via Fax 606.886.7039

Call 606.886.1936

TTY: Dial 711 or 1-800-648-6056

Mail request to:
Sandy Valley Transportation Services, Inc.
81 Resource Court
Prestonsburg, KY 41653
Complaint Process and Contact Information: Complaints regarding the administration of or compliance with this policy shall be made in writing, either by letter or email addressed to Liza Morrow at liza.morrow@svtransport.org, or by completing and returning the Title VI or Discrimination Complaint Form found at: http://www.svtransport.org/Title%20VI/default.html


* Language Assistance is Provided at No Cost to the public

**The contents provided on this website will be available in other formats, upon request.

Please contact either Stacy Prater or Liza Morrow or email smckinney@svtransport.org

1-800-444-7433 or 606-886-1936